// DURABLE FLOORING
Give your garage a gorgeous floor that lasts and lasts.
// CLEAN AND NON-SLIP
Our flooring makes your garage easy to clean and safe to use.
// LIQUID RESISTANT
Wall-to-wall flooring that resists water, oils, and chemicals.
CONSULTATION
IT'S TIME TO GET ORGANIZED.
CONSULTATION
IT'S TIME TO GET ORGANIZED.
FLOORING MISSOURI CITY SHOULDN'T LIVE WITHOUT
Flooring can often be put on the back burner when it comes to renovating the garage. We suggest improving your garage floor before moving to the rest of the garage. Our garage floor coating in Missouri City can revamp your garage in as little as a day. Not only are our floor coatings extremely pleasing to the eye, but Gorgeous Garage flooring is UV and spill resistant.
//
DURABLE FLOORING
Epoxy floor coatings are an easy, beautiful solution to your cracked cement floor. Unlike untreated, cement floors, our garage floor coating in Missouri City makes it difficult for anything to crack or damage your floor.
Not only do you get personalized flooring, our garage floor coatings are durable and easily cleaned. Our flooring is made of top quality materials making cleaning as easy as a rag and cleaner. Get the garage floor coating Missouri City residents love.
//
THREE LAYER PROTECTION
Our epoxy flooring is a durable solution that your family can trust. Gorgeous Garage floor coatings have a three layer process to ensure that your flooring will never crack or peel.
NO PEELING
Diamond grinding ensures a superior bond that won't peel
UV STABLE FLOORING
Base coat will never fade, top coat will never yellow

CRACK & SPALLING REPAIR
We fill cracks, spalling, and control joints
THE GARAGE FLOOR COATING ADVANTAGES
Skilled professionals can help you get the flooring you want from start to finish.
No More DIY Hassle: Our flooring process is easy on you. We have professionals come and install your new epoxy flooring. Our process involves sealing and filling any cracks or crevices. Your vehicle can also be placed back in the garage within 24 hours of installation.
Options You'll Love: With a variety of granite and solid finishes, we are sure that you will be able to find a design that suits your style.
No Unsightly Stains: Our flooring is specially designed to cover stains and cracks. Not only does our flooring take care of old problem areas, but it also take the hassle out of cleaning.
Sun Resistant: Living in a warm climate? Our flooring is always UV resistant and won't yellow or fade over time.
Call us today to schedule a free estimate for a garage floor coating in Missouri City!
FREE ESTIMATE
BENEFITS THAT CAN'T BE BEAT
Sealed Protection: Our epoxy floor coatings make it impossible for dirt to erode your concrete floor.
Showroom Quality: Our coatings provide a finished look to your garage.
Home Value: Did you know that a finished garage floor adds value to your home? Not only are our garage floor coatings attractive to home buyers, but they also pack the punch of durable, cleanable flooring.
// AS SEEN ON

Choose the garage flooring option that is already trusted by home improvements biggest names on TV. Call us to begin transforming your garage today!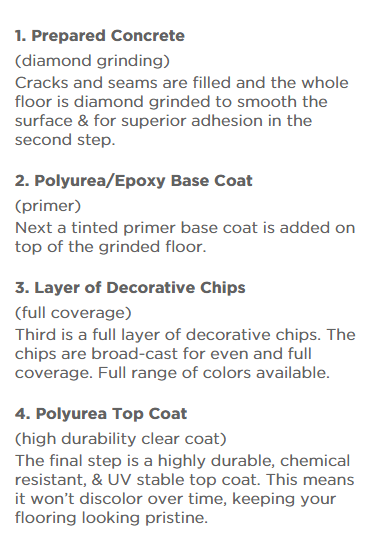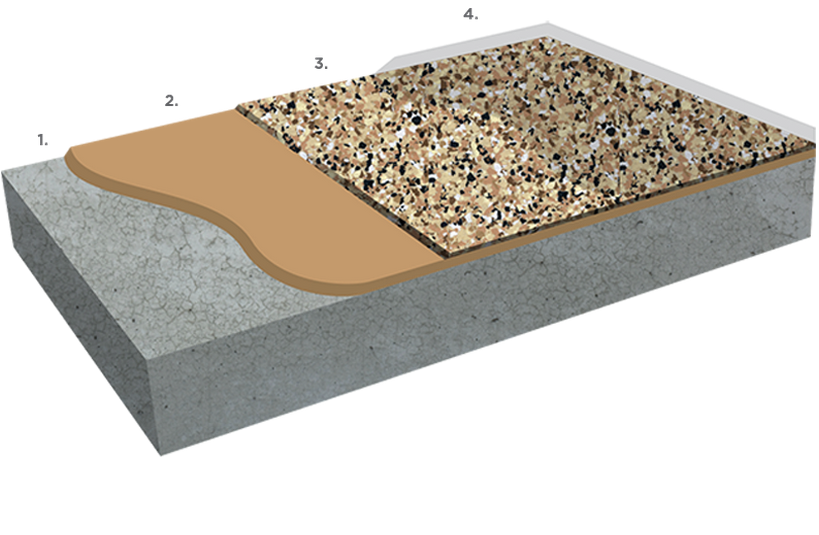 It's more than storage.
It's your life.™