// MOTORIZED OR FIXED RACKS
Durable racks with or without the use of a ladder.
// ABOVE THE COMPETITION
Store with confidence with industry leading weight capacity.
// OUT OF SIGHT, OUT OF MIND
Store rarely used items up high and out of the way.
CONSULTATION
IT'S TIME TO GET ORGANIZED.
CONSULTATION
IT'S TIME TO GET ORGANIZED.
DURABLE OVERHEAD GARAGE STORAGE MISSOURI CITY CAN TRUST

Our overhead garage storage in Missouri City is the strongest and most affordable way to store less frequently used, but important storage items up out of the way.
//

Easily Accessible
Overhead storage racks allow you to store your items in an efficient manner. Store less frequently used items up high while still being able to access them when you need them.

//

Steel Construction
You can always feel secure when storing your heavy items up high because our racks are constructed of steel. Each rack can support up to 750 lbs or up to 1000 lbs when also mounted to the wall.

//

NO MORE UNDERUTILIZED SPACE

Take advantage of all your unused space in your garage, to store more than you could have ever imagined.
SAFETY LIP
2" lip securely holds all of your storage in its place
CUSTOMIZABLE
Racks can be combined for greater storage capacity
MOTORIZED
Skip the ladder and load your racks from the ground level

PROFESSIONAL INSTALL
Authorized dealers ensure a proper installation
// INNOVATIVE MOTORIZED PLATFORM
Four Bluetooth motors smoothly lift and lower our overhead platform for ultimate convenience and safety. There's no longer a need for get the ladder when you can load your storage from the ground level.
Control your garage storage lift in Missouri City with a touch of a button on your smartphone. These systems, built from industrial grade steel and steel braided cables, are made to last. Call today to schedule an installation!
• Manufactured in the U.S.A.
• Controlled with your smartphone
• 350lb storage capacity
• Lifetime warranty
Overhead Storage Features
Overhead storage racks are a great way to make use of wasted space in your garage for all your storage items.
Added Space: Our overhead garage storage in Missouri City stores things up and out of the way, increasing your amount of usable square footage.
Adjustable: Each rack is versatile enough to be integrated with existing products and are adjustable.
Reliable: With a high weight capacity and steel construction, you won't worry have to worry about our overhead racks bending and breaking in the middle.
Store More: Combine multiple platforms to give you more storage options.
For the best overhead garage storage in Missouri City, give us a call today!

FREE ESTIMATE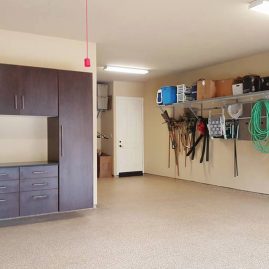 …They did an excellent job. They were professional and just nice guys… It was the first time we had seen the floor of our gar… Read more
Garage Overhead Storage Highlights
2 Inch Safety Lip: Each rack is designed with a 2-inch safety lip around each side. This prevents things from falling off while you are moving storage things around.
Affordable: Many storage solutions are expensive. Our system allows you to save money, while still getting the best overhead garage storage in Missouri City.
Quick Installation: For the quickest storage solution installation, choose one of our overhead racks. You'll be ready to store and organize in no time.
Multiple Mountings: Storing several hundred pounds above a car can make anyone a little weary. Our overhead racks come with four mountings to attach to trusses and walls. With multiple points of security, you can rest easy knowing your car is safe!
//

AS SEEN ON

If you're ready to transform your garage into the ultimate in efficient organization, overhead garage storage in Missouri City is a great way to started!
It's more than storage.
It's your life.™
OVERHEAD SOLUTIONS
Bluetooth motors can raise and lower the platform using your smartphone.
Wall mounted racks can hold up to 1,000 pounds per rack.
Each 8' rack can be combined with more racks to form even larger platforms.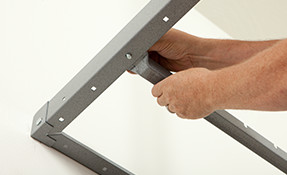 Made from industrial grade steel, these racks can handle anything.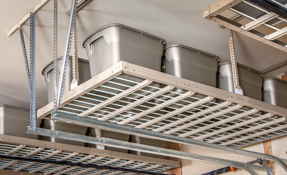 Get your bikes and other accessories off the floor with Bluetooth motors.
Overhead racks come in Granite Gray and Desert Stone to match your Monkey Bars Shelving System.