// DURABLE FLOORING
Give your garage a gorgeous floor that lasts.

// WORRY-FREE FLOORING
Spills wipe right off our durable flooring.

// BEAUTY AND DURABILITY
Give your garage the floor it deserves.
CONSULTATION
IT'S TIME TO GET ORGANIZED.
CONSULTATION
IT'S TIME TO GET ORGANIZED.
SLEEK GARAGE FLOORING IN
MISSOURI CITY
Once you've gotten everything stored up and off the floor, it's time for a dynamic garage floor to add the perfect finishing touch. Our customers are always pleased with the end result of their flooring. Our garage flooring adds the perfect touch that they were looking for. Be the envy of the neighborhood with new garage floor coatings or tiles.
//

Garage Floor Coatings
Our epoxy and polyurea floor coatings give your floor a protective surface to block out dirt, moisture, and any other potentially damaging elements.

//

Garage Floor Tiles
These garage floor tiles are the easiest and fastest way to completely transform your garage floor. Plus, with a plethora of colors to choose from, you'll be sure to create a space that you love. Visit our Garage Floor Tiles page to learn more.

//

Affordable options
Transform your garage or other space into a clean, sleek space with our options for garage flooring in Missouri City. Our flooring coatings start at just $4.50 per square foot.

INDUSTRIAL STRENGTH
Our garage flooring can handle years of abuse

EASY TO CLEAN
Maintaining a pristine appearance is no problem.
CHEMICAL RESISTANT
Don't fret over spilled gas or oil

PROFESSIONAL INSTALL
Authorized dealers to ensure a proper installation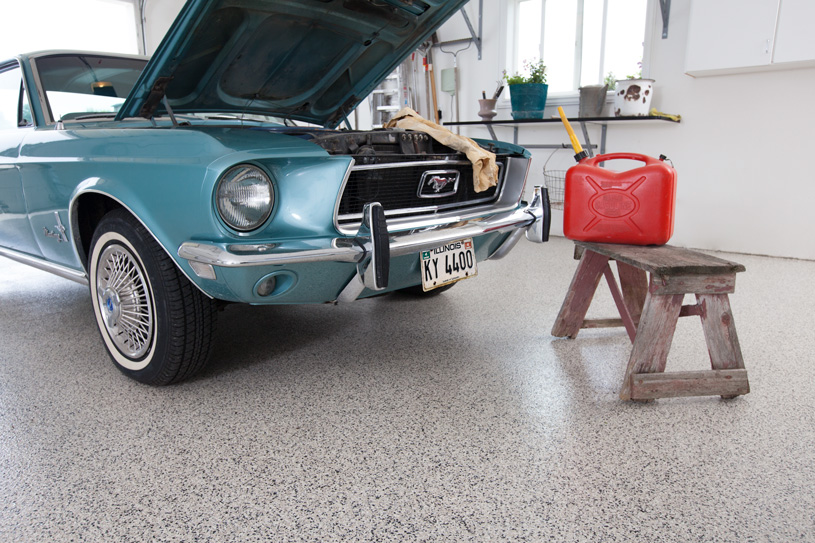 Professional Grade Epoxy Flooring Process
We offer garage flooring Missouri City families love. Each step of the installation process is done with the up-most care to ensure that you're getting a garage floor that will last for years to come.
Preparation: To prepare your garage for the coating, each floor is sanded down with a diamond grinder to smooth cracks and rivets. Then each imperfection is filled in with the top of the line filler to make your floor look like new again.
Professional installation: Our trained experts have installed many epoxy floor coatings before. They won't waste your time. These epoxy coatings can be installed within one or two days. Meaning your vehicle is ready to be parked within 24 hours of completion.
Increased Value: Adding one of our beautiful floor coatings to your garage or other space will only add value to your home's worth.
Quality Materials: Our floor coatings contain low VOC, non-toxic chemicals that do not produce harmful vapors.
Contact us today to learn more about our garage flooring options!

FREE ESTIMATE
Garage Flooring Highlighted Benefits
Waterproof and Stain-proof: Your floor will be protected from flooding and any chemicals that may fall upon it. Don't worry about oils dripping from the car or the occasional spill. Just wipe quickly and your floor will stay just as beautiful as the day it was installed.
Easy to Maintain: With an installed garage flooring in Missouri City, clean-up has never been easier. A simple sweep of the broom or mop is all you need to keep your beautiful floor clean.
Seamless Floor: With our garage flooring in Missouri City, your floor is guaranteed to be crack and blemish free. You will be left with a beautiful, seamless floor.
Warranty: All of our floor coatings come with a 5-year limited warranty.
// AS SEEN ON
Transform your garage with beautiful flooring. Get in touch with us today to get started.
It's more than storage.
It's your life.™