//
LET'S GET ORGANIZED
Knowledge and expertise for any job.
//
R
IGHT WHERE YOU NEED IT
Keep your tools at your fingertips.
CONSULTATION
IT'S TIME TO GET ORGANIZED.
CONSULTATION
IT'S TIME TO GET ORGANIZED.
GARAGE ORGANIZATION
MISSOURI CITY

TRUSTS
If you're tired of the messy state of your garage, we can help you plan the garage of your dreams. Don't waste anymore organizing the garage alone. Learn about the benefits of our unique storage systems below:
//

Changes With You
Our systems for garage organization in Missouri City are designed to adapt to your changing needs. That's why adding, removing, and moving the hooks on our shelving systems is simple.

//

Long Lasting
Each of our shelving systems are built to last, and come with a lifetime limited warranty.

//

Affordable
Don't worry about the cost of replacing a broken storage system. Our long lasting systems for garage organization in Missouri City will save you money over time.
It's more than storage.
It's your life.™
AMAZING OPTIONS
We provide you with all the tools to make your dream garage. What are your storage needs? Read below about the different products we offer and how each piece can help you reach your storage goals.
Shelving: If you have a combination of both long-term storage items and short-term storage items, shelving may be the perfect option for you. Store long-term storage items up high, and more frequently used items down below. Frequently used items will be kept easily within reach on our hook shelving system.
Cabinets: Our cabinets allow you a space to store items out-of-sight, and away from dust.
Overhead Storage: Get your long-term storage items out of the way by storing them above your head. These height-adjustable racks can easily be adjusted to your specific needs.
Flooring: Finish off your garage with a beautiful floor coating. Our epoxy floor coatings are both slip and water-resistant.
FREE ESTIMATE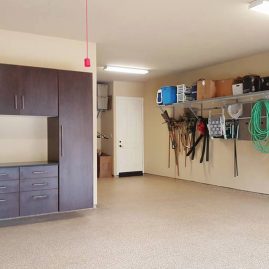 …They did an excellent job. They were professional and just nice guys… It was the first time we had seen the floor of our gar… Read more
Want to get organized?
We only trust trained professionals to get things organized in our homes. The same applies to your garage. With experience helping families like yours, we take the time to get things organized after we've installed your storage plan.
Budgets Wanted: We promise to give you the best garage organization Missouri City can offer. We work to give you the most affordable, durable solutions. Our durable products help save you money and give you piece of mind over time.
Warranties: There should never be any good reason to worry about your garage storage. In case something goes wrong, we offer warranties on all of our products.
Heavy Lifters: Our storage plans get everything off the floor so other things can occupy the garage. With that being said, our shelving is durable enough to hold all your items. Everything is mounted to walls making it possible to for our shelving or overhead racks to hold up to 1,000 lbs of your storage.
Featured on the TV shows like Property Brothers, Gorgeous Garage systems helped organized several families' garages in a snap.
Getting started is as easy as pie. Give us a call or email us today to set up your free, no-obligation estimate.